TESTIMONIALS
As a coach of both amateur and professional MMA fighters and as a martial arts instructor, when I needed a strength and conditioning coach for my school I wanted the best. Coach Jim Massaro was the strength and conditioning coach at The Asylum Fight Gym until it closed. I highly recommend him for both the competitive athlete and the person just looking to get back in shape. MMA is one of the most physically demanding sports, and Coach Jim was an important component of fight preparation for the fighters on the team. In MMA, without conditioning, technique falls apart. Jim has made sure my guys have been in the best shape possible. It doesn't matter if you want to get in shape for a professional title fight or just look good for an upcoming event, everyone gets the same attention. I give Coach Jim Massaro my highest recommendation.
—PHIL DUNLAP, Head Coach Asylum Fight Gym
My good friend, strength & condition expert Coach Jim Massaro has written an incredible training manual for combat athletes: EXPLOSIVE 32 WEEK STRENGTH TRAINING FOR COMBAT ATHLETES. If you want to add punching power, take down strength, hip-mobility and speed and endurance this is the training program to follow. If you take your sport serious and want to be the most explosive and conditioned fighter in the ring or cage, I highly recommend that you get a copy and start your training today.
—ARMY MAGUIRE, www.agelessstrength.com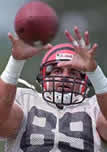 Hey Coach Jim, thanks for all your help with my strength & conditioning throughout my years at Rutgers and throughout my NFL career.
—MARCO BATTAGLIA, Rutgers U, Bengals, Redskins, Panthers, Steelers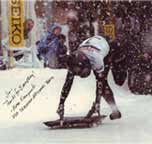 You know someone is a good trainer when they are always looking to learn more. Jim Massaro is always learning about new training techniques and different approaches. This knowledge makes him top notch.
—KATIE KOCZYNSKI, USA National Skeleton Team
Hi! My name is Coach Pati T. Pati from American Samoa. I am the head football coach at Leone HS. I just received your Complete Coaches Manual of Sports Performance for Football in the mail, and I am thankful, appreciative, and very blessed. Thank you so much coach for the manual. I pray that God blesses you and your family abundantly. We are definitely going to put your manual to good use. Thanks again Coach! God Bless.
—COACH PATI, Leone HS in American Samoa
Since opening my doors for business in February of 2008, I have relied heavily on Coach Massaro's expertise and guidance in training my athletes. In a world full of "make believe" and "wanna-be" strength coaches; Coach Massaro stands out as one of the only true experts in the field of developing greater strength, explosiveness, quickness, agility, and coordination in athletes. On top of his outstanding professional credentials, Coach Massaro is a man of tremendous ethics, values, and moral fiber. I highly recommend Coach Massaro's manuals to any strength coach, athlete, athletic director, personal trainer, or gym owner looking to gain knowledge and a competitive edge over their competition.
—GABRIEL RINATO, Trainer/Owner of Empire Fitness, NY
As a strength coach I can tell you if you are going to be successful you need to begin with a well constructed plan. It is our responsibility to take our athletes and carefully make them bigger, stronger and faster. I'm happy to say that Coach Jim Massaro has laid that blue print for you. With these manuals at my finger tips, I now have a step-by-step guild to leave my athletes in the best position possible. Not only have my athletes shaved times off their 40, but have systematically become stronger as well. I can't thank you enough Coach.
—NICK MARTIRE, Iron Lion Training, NJ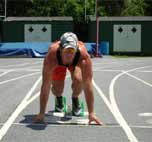 "After training under Coach Jim Massaro, I have come to realize he is one of the few gems in the training industry today. As a D-1 Sprinter for an SEC school (SEC has the top sprinters in the nation as a whole), I knew that I had to concentrate on my strength, speed and power in order to succeed. Jim not only helped me with these attributes, but many others as well in order to achieve my goals. I can truly appreciate Jim's continuing emphasize to out work your opponents and never give up, a motto every athlete should strive for. I know that if I ever have a problem, I can go to Coach Massaro and he will try his best to help me out, no matter what the problem is. If you want to achieve greatness that you only dreamed about on the athletic field, or just want to become healthier in everyday life, Coach Jim Massaro is the man to go see. Coach Massaro is truly the ultimate of coaches". Thanks again for everything,
—JORDAN COLLINS, Auburn University
lauren pope hair extensions superdrug afro kinky hair
hair extensions
how to take care of a lace front wig vanessa grey hair uk
hair extensions
single sided tape for hair extensions nigerian cornrow hairstyles 2017
human lace wigs
hide bangs with hair extensions champagne arda wig
lace wigs
pauls hair world manchester clip in hair braids with beads and feathers
human hair wigs uk

Hi my name is Shawn Harris and I have been training with Coach Massaro since the summer of 2001 that was the summer going into my senior year in high school. I knew I had to get serious if I planned on furthering my football career to the collegiate level. Now I'm a senior in college, Starting Tailback and captain of my team. I am still training with Coach Massaro. He has done a lot for me so far and has been a real big reason why I am able to play the way I play and make some of the plays I make. He has made me a lot stronger and faster throughout the years. It has been a long process and a great one. Coach Massaro has helped me with my agility, strength, power, speed and quickness. He has helped me take my abilities to another level. At my college we have been through 4 different speed and strength coaches over the past 5years so I have done plenty of different workouts, but still I see the workout Coach Massaro has me doing is the best. It changes every 8 weeks and has helped me reach so many goals and bettered me as an overall athlete. We work on agilities (which is stop and go movements, redirection at top speeds); balance which is mainly controlled by your core strength (abdominals); overall speed and acceleration (reaching top speeds, working on running form, foot speed); plyometrics (explosion, leg strength and power); and last most importantly endurance (how long you can perform at 120% effort, giving it your all without getting tired). Then there was in weight room where he just made me an outstanding lifter with great strength & power along with great form. Thanks a lot Coach for all your help and assistance throughout my years and on to many more.
—SHAWN HARRIS, former Nyack running back, Southern Connecticut University

Dear Coach Jim Massaro,
This is Kyle Bach just writing to thank you for all the training advice you have given me in the past two years. With your help, along with my training partner and Highland Games Pro, Dan Wood, I have been able to compete at a high level in the sport of Strongman. My hard training has allowed me to place 1st in four out of the five competitions that I have competed in. The first two victories occurred in the teenage division. From there, I moved into the lightweight men's open division, then to the middleweight open. Just recently I started throwing in the Scottish Highland Games.
When I came to you for advice two years ago after a friend had introduced us, I had no idea how big an impact it was going to have on my training. Before talking to you, I did what many people tend to do: over train. There were long plateau periods where no strength gains were being seen. When no visible gains are being seen one's mental strength begins to break down as well. After I started the program you helped me put together, my strength began to go through the roof. Not only on gym lifts, (ex: squat, deadlift, and clean), but on Strongman events as well (ex: Farmers Walk, Yoke Walks, and Viking Press). My mental strength along with my cardiovascular conditioning went up as well. This is the best physical shape I have ever been in and my strength continues to grow.

Well, I just wanted to thank you for your help, and I look forward to training with you this summer.
Sincerely,
—KYLE BACH, Pearl River, NY


Advanced Body has played a major part in turning me into a Division One basketball player. I am very happy with the one-on-one training I get there. I also fully endorse their services.
—ALVIN CARTER

I began training with Jim when I was 15 and entered the ninth grade. Back then I was 170 lbs., my bench was 135 lbs., and I couldn't squat more than 250 lbs. By the fall of my senior year my weight was up to 245 lbs. Now as I prepare to enter my freshman year in college, my bench max is up around 300 lbs., squat is 550 lbs. and power clean in around 270 lbs.
Jimmy not only worked with me on my size and strength, but my speed and agility. The combination of the size, strength, speed and agility that Jim helped me build assisted me in making first team all-state in both my junior and senior years. I will also be playing football at Cornell University. None of this would have been possible without the intense and varied physical training Jim put me through.
—WILLIAM M. LEONE, former Nyack HS defensive end, Cornell University
Jim Massaro was the key to my success in the sport of football. As my trainer for the past five years, he has increased my strength and agility that has propelled me to be the bigger, faster, stronger football player I am today. His advice, encouragement and workout system helped me earn the starting linebacker position at the University of New Haven. Jim Massaro is my trainer, mentor and friend. He has made a positive influence on my life and career.
—JASON ALCIN, former Nyack HS linebacker, University of New Haven

After a debilitating illness that left me bedridden for 2 months, Jim Massaro had me back on my feet squatting and bench-pressing. He has been instrumental in my full recovery.
—ALAN RUCK, TV/movie star

As the head of a certifying body and developer of a unique physical training system, I am often asked to provide testimonials for members of the profession. Yet in discussing the work of Jim Massaro I feel humbled because of my enormous respect for him both professionally and personally.
Having Jim Massaro as part of Renegade Training is simply an honor for the company and myself. His level of expertise is extraordinary and unparalleled. Jim is the ultimate coach and
there is no question when I need the coaching expertise and leadership, I look to one person—Jim Massaro.
Jim's work is exemplary and I would whole-heartedly endorse the use of his work."
—COACH JOHN DAVIES
Jim Massaro became part of my staff in 1999 as our head strength and conditioning coach. At that time we did not have a strength and conditioning program. The kids bought into it immediately. Jim began running the weight room and the plyometric programs, taking it to new levels: by running a year-round conditioning program using many methods I have never seen before such as rubber band work, board work, benches with chains, sled pulls, and more. Since Jim has been part of my staff our record is 31-2. We have won the league championship all three years, a Section 1 championship and the New York State High School football championship in 2000. We are very happy to have him as part of our staff. I feel most of our wins are directly related to our strength and conditioning program. We simply wear down the opposition throughout the game.
—JOHN CASTELLANO, Head Coach, Nyack High School football
We were privileged to have Jim Massaro work for our men and women's basketball teams for three days in September. The basketball specific program that he presented was designed to enhance the athleticism and performance level of our student athletes.
Jim did an outstanding job of developing a series of creative exercises using various pieces of equipment. The exercises were both fun and challenging. Our players responded extremely well to Jim and felt that they benefited greatly in their personal development.
We wholeheartedly endorse this program and recommend Jim Massaro to you without any reservations.
—JOSH THOMPSON, Head Women's Basketball Coach, Nyack College, NY
I have known Jim Massaro for over twenty years. I can recommend him highly as an individual and as a professional. As an athlete, Jim was one of those rare individuals blessed with both ability and an outstanding work ethic. He was talented and constantly sought improvement.
Jim has been our strength consultant at RCC since 1990. He has devised workout programs for teams and also for particular groups (e.g. pitchers, goalies, etc.) He has worked one on one with exceptional players in order to eliminate weaknesses and concentrate on strengths. Every player has different needs and Jim is adept at recognizing and implementing individual workout programs.
Jim Massaro is a person of remarkable character and I recommend him highly as a trainer.
—DAN KEELEY, Asst. Director of Athletes, Head Baseball Coach, Rockland Community College, NY
The Nyack athletic family has been made stronger since the addition of Jim Massaro. He has volunteered his time to making the student athletes more knowledgeable about strength training and fitness. He has become an excellent asset to our sports teams. He has designed in and out of season conditioning programs for several of our teams. The outcome has been amazing including a State Championship for our football program. Without his knowledge our players would not have been ready for that type of competition. As the Athletic Trainer for our school district I have seen injury rates lowered due to the athletes being stronger and better conditioned to withstand the strain of competition. He is also an excellent person to talk to—his vast knowledge of strengthening programs has helped me institute better rehabilitation programs for my athletes.
—HAL B. STONE, A.T.C., Nyack HS

© 2017 Coach Jim Massaro. All Rights Reserved. Designed by Barking Kat Design